Thailand has been a destination that's attracted tonnes of travellers for many years. Its stunning landscapes, fascinating culture and unforgettable cuisine are just a few of the things putting it right at the very top of lots of people's travel bucket lists.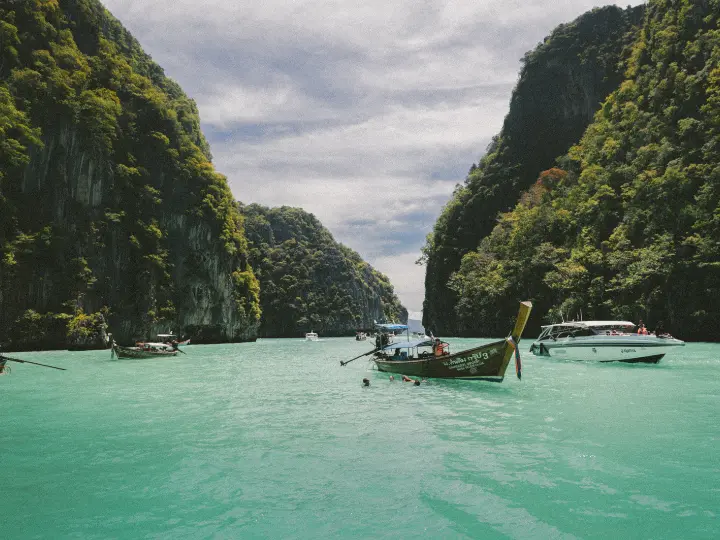 It's a country blessed with so much variation which naturally brings a huge variety of tourists to its shores. There are the party hunters flocking to the cities and islands, the travellers looking for relaxation heading up north and solo travellers exploring it all.
But it's Thailand's appeal for couple travellers that we're most interested in. In this blog post, we'll be exploring the best places in Thailand for couples!
Where To Go In Thailand As A Couple
Most travellers visiting Thailand tend to have pretty similar destinations and routes, exploring the more popular locations this country has to offer.
We spent over a month in this incredible country, exploring it from north to south and everywhere in between. And based on this, we've outlined some of our favourite places and why they're so great to travel to as a couple.
North Thailand
Northern Thailand is a wonderful blend of natural beauty, authentic culture, amazing cuisine and so much adventure and was by far one of our favourite parts of this country.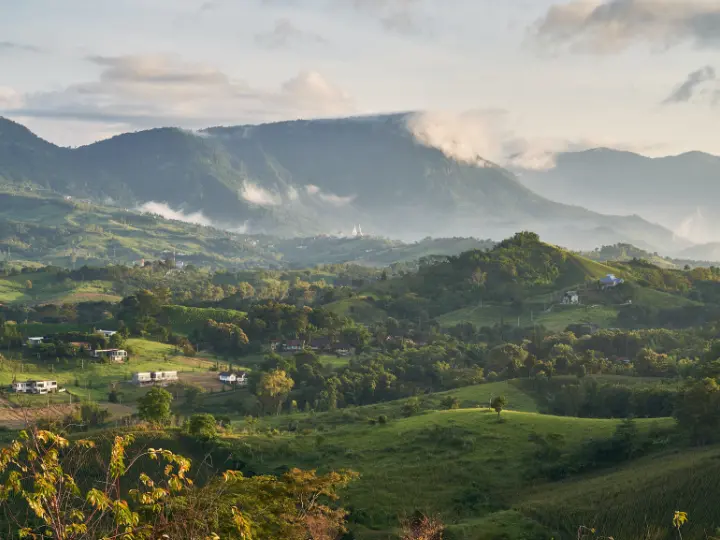 The region is well known for its stunning landscapes with jungles and waterfalls aplenty. This makes this part of Thailand an adventure-lovers dream! If you're both outdoor enthusiasts, you can enjoy trekking, caving, white-water rafting, zip-lining, or even visiting one of the many elephant sanctuaries (please do your research on this one before!).
Compared to the more touristy areas of Thailand, the North has maintained a sense of authenticity and feels unspoilt and natural. Here, you can get a true feel for Thai life. We'd recommend visiting a homestay if possible, it's a great experience to do as a couple!
And now for the food, oh wow! The food in northern Thailand is to die for. From the signature dish of Northern Thailand, khao soi, to amazing street food, it doesn't come much better!
As is the same with a lot of Thailand, it's very spiritual. There are a number of must-see temples and spiritual retreats that make this area particularly amazing.
Chiang Mai
The main city in the north and the second biggest city in Thailand, Chiang Mai is a traveller's hotspot, and rightly so.
Nestled deep in the jungle Chiang Mai is renowned for its beautiful temples, lush scenery, vibrant festivals and incredible food spots.
Chiang Mai offers plenty of opportunities for couples to enjoy unforgettable ventures, from adrenaline-fuelled adventures, and incredible culinary experiences to luxury hotels and serene settings.
Pai
Our personal favourite, Pai, is a small town just north of Chiang Mai. Recently, it's become one of the most visited towns in Thailand, with many travellers adding it to their itineraries.
We planned on staying in Pai for a couple of nights and ended up staying well over a week, pushing everything else back on our trip to fit – but it was worth it!
Similar to a lot of northern Thailand, Pai is nestled in the mountains and surrounded by jungle which makes for an incredible setting. Here, you'll also find amazing markets, a huge sense of community, and probably some of the best sunsets you'll ever see. Grab your partner, it's the perfect place for couples!
So if you're looking for some time and space to relax, unwind and experience a more rural, natural Thailand, the north is a must-see.
Bangkok
We can't write a post on Thailand without mentioning the metropolis that is Bangkok, and what a place it is! The vibrant capital offers a range of experiences that make it a great destination for couples.
With an immense blend of cultural attractions, vibrant nightlife, diverse cuisine, and opportunities for relaxation, Bangkok offers an exciting environment for couples to explore, connect, and create lasting memories.
If you're a couple that loves the hustle and bustle of a giant sprawling city, Bangkok is the place for you! With limitless food choices, an abundance of nightlife spots and some incredible accommodation choices, Bangkok really is a city like no other!
If you're looking to do Bangkok on a budget check out some of the best hostels to for couples in Bangkok.
South Thailand & The Islands
If you're looking for something a little more peaceful, or maybe you're looking for the perfect romantic beach getaway, then the south and the Thai islands are going to be right up your street.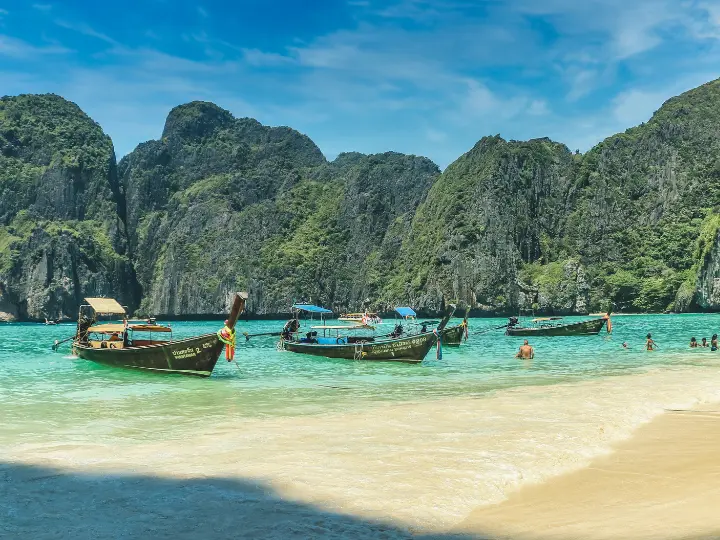 The south of Thailand is renowned for its picturesque white sandy beaches and gorgeous islands. Places like Phuket, Krabi, Koh Phi Phi, Koh Lanta, and Koh Samui offer immaculate beaches, crystal-clear sea, and some breathtaking sunsets, making it the perfect, romantic setting for couples to relax and unwind.
Here, you're spoilt for choice for hotels and resorts where couples are at the very forefront of their offerings. The south of Thailand and its islands are known for their world-class spas and wellness retreats, providing that perfect haven for your getaway.
It's not all relaxation though, certain destinations such as Phuket and Koh Samui have a vibrant nightlife scene that are perfect for couples seeking entertainment and excitement. Couples can enjoy amazing beachfront bars, rooftop lounges, live music venues, and cultural performances, sure to create some amazing memories.
Overall, the combination of beautiful beaches, romantic resorts, water activities, and vibrant nightlife makes South Thailand a great destination for couples seeking a romantic and unforgettable getaway.
Conclusion
Overall, Thailand's combination of idyllic beaches, luxury hotels, vibrant culture, delicious cuisine, wellness offerings, adventure opportunities, warm hospitality, and value for money make it the perfect destination for couples looking for an unforgettable trip.
If you're looking for a more relaxed, traditional adventure, head up north. If you want to jump in at the deep end and experience true hustle and bustle of Thailand, go to Bangkok. And if you're looking for white sandy beaches the south is for you.
Better yet, spend a little longer and see it all, you won't regret it!