Lisbon is a city that really does have it all. From stunning hilltop viewpoints to postcard-perfect pastel-coloured buildings, and old cobbled streets to modern boutiques, Lisbon is a traveller's dream and a perfect destination in Portugal for couples to visit.
Nestled amongst 7 hills, the city is separated into several easily-distinguishable neighbourhoods. Each has its own advantages and disadvantages, which makes it particularly difficult to choose where to stay in Lisbon if you don't know the city.
Fear not though. After being lucky enough to spend some time living in this incredible city, we're here to help. In this post, we'll take a dive into some of the most popular areas of Lisbon, providing some insider knowledge, tips and also accommodation recommendations.
Best Area To Stay In Lisbon For Couples
Alfama
As one of the oldest and most traditional neighbourhoods in Lisbon, Alfama is packed full of character and tourists alike.
It's a narrow maze of cobbled streets bursting with restaurants, bars, shops and cafes that ooze authentic Lisbon vibes. Back in the 1820s, Fado was actually born here and still to this day, you'll be able to find it roaring out of Alfama's bars and restaurants.
Lots of must-see sights are also located in Alfama, such as Lisbon Cathedral (Sé), the Convent of the Grace, and the Monastery of São Vicente de Fora.
We based ourselves here for a month and think it's a fantastic place to stay as a couple. We found the accommodation to be really reasonably priced, the restaurant choices were great, and the area had everything we needed!
This does come with a few caveats, however. Due to its charm and location (near the cruise ship docks), it's often pretty packed with tourists during the day. And as is the case with the majority of Lisbon, it's very hilly. Don't expect to go anywhere around Alfama without climbing steps!
Due to its layout, and the types of buildings, there aren't too many hotels in Alfama, you'll find mainly apartments if you want to be in the heart of it.
However, we've picked a couple that we'd recommend if staying here.
Palacete Chafariz d'El Rei – A stunning 19th-century, former aristocratic family home.
Hotel Convento do Salvador – Tucked away in a former convent, and well-located within Alfama.
None of those for you? Check out more accommodation choices in Alfama here.
Bairro Alto & Principe Real
Boasting gorgeous viewpoints and epic nightlife, Bairro Alto and Principe Real are two of Lisbon's 'trendier' neighbourhoods.
Located high above Chiado, and still served by two traditional funiculars, their steep streets are lined with street art, vintage shops, bars, and restaurants with a plethora of cuisines at your fingertips.
Expect fine dining, Portugese tapas, Asian fusion and so much more. Alongside great restaurants, Bairro Alto and Principe Real have no shortage of excellent bars and fantastic nightlife.
So, if you're looking for quiet days and night's with a bustling atmosphere, then Bairro Alto and Principe Real is the place you should stay. If not, keep reading.
There are some beautiful hotels in this area, we've picked out a couple below, one luxury option, and one more affordable:
Memmo Príncipe Real – A luxury 5-star hotel with a terrace and pool overlooking the city.
Independente Príncipe Real – An art deco hostel with classical Portugese-inspired private rooms and dorms.
None of those for you? Check out more accommodation choices in Bairro Alto & Principe Real here.
Baixa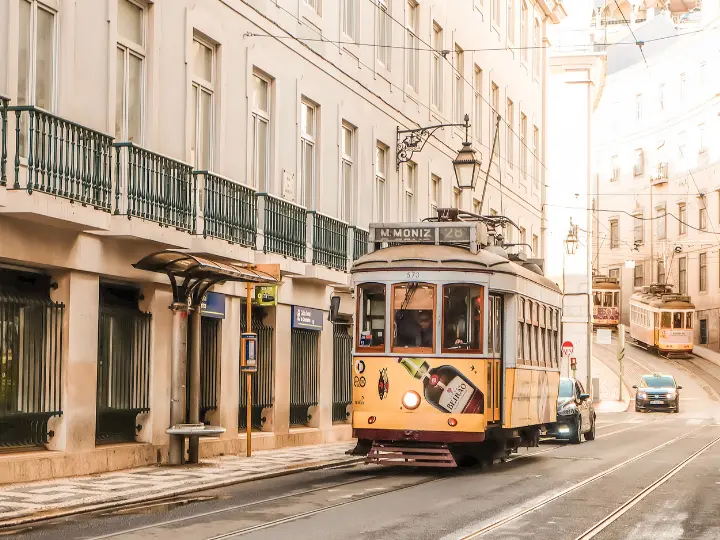 Situated between Alfama, Rossio, and Bairro Alto, you'll find Lisbon's historic downtown, Baixa.
After the disastrous earthquake in the 1700s, Baixa's streets were elegantly rebuilt as Europe's first grid system.
With a large number of visitor attractions, majestic plazas, vast squares, and avenues, Baixa is often referred to as the tourist city centre. There's no shortage of bars, restaurants and shops either. In fact, you'll find most of the 'big brand' shops down here.
There are plenty of places to stay here too, but thanks to its central location and popularity amongst tourists, you can expect to pay a little more.
Baixa is an area that's great to stay in if you're looking to be in the heart of everything and crave some sort of familiarity of home. You'll be surrounded by other tourists, big hotels and chain shops, but in the centre of the action.
We can recommend a couple of hotels in Baixa:
My Story Hotel Figueria – a lovely hotel just 200 yards from Rossio, right on one of the picturesque squares.
Casual Belle Epoque – Centrally located, and perfect for couples. This hotel is a great choice.
None of those for you? Check out more accommodation choices in Baixa here.
Chiado
To the West of Baixa, and just below Bairro Alto, you'll find a neighbourhood perfect for culture lovers, foodies, shoppers, and drinkers.
Chiado underwent restoration after a large fire in 1988 destroyed an extensive area of the neighbourhood. Here, you'll find traditional cafes, boutique shops and still plenty of history.
Thanks to a growing student population, the neighbourhood, like Bairro Alto and Principe Real, really comes alive in the evenings. There are lots of fantastic bars and restaurants and some great accommodation choices. Two of which we've listed below – a luxury option and something more affordable:
Verride Palácio Santa Catarina – a 5-star hotel overlooking the River.
Boutique Chiado Suites – A modern guest house in the heart of Chiado.
None of those for you? Check out more accommodation choices in Baixa here.
So where's the best area to stay in Lisbon for couples?
It really depends on who you are and what kind of trip you're wanting.
If you're looking to experience traditional Lisbon and don't mind the odd cruise ship full of tourists showing up during the day, stay in Alfama.
If you're looking for a bit more of an atmosphere, great restaurants, and lively nightlife, stay in Bairro Alto or Principe Real. Personally, if we went back again, we'd probably stay here.
If you like being in the heart of everything and surrounded by some home comforts, Baixa is the place for you.
Want a bit of everything? Good nightlife, history, central location… Chaido's the area for you.
Stuck for choice? Check out the best hotels, hostels and apartments in Lisbon.