Why hostels are great for couples
Hostels aren't just for students and broke backpackers any more, they're excellent for couples' travel, for a lot of different reasons.
Budget-friendly
If you're travelling on a budget and looking for more ways to save money, then staying in hostels is a great way to do this. Hostels will often be cheaper than a hotel, and that's not just the dorm rooms. 
In a hostel, a double room is rarely twice the price of a single room. If a bed in a dorm room is £8 ($9.2), we would expect to find a double room for around £12 ($13.9) per night. 
Plus, you'll be able to make use of all that hostels have to offer, whether it's free breakfast, free tours or a shared kitchen to cook your own food.
Get your own private room
There's far more to hostels than just the cramped, noisy dorms you'd imagine. Many hostels now offer great private rooms, quite often with your own private bathroom too! With these private rooms, you'll have all of the comfort and privacy of your own room with all the fun and sociability of a hostel. It is the best of both worlds.
Experience more
Hostels are a great way to immerse yourself in a new location. When you arrive, you'll instantly feel a sense of community and become a part of a welcoming family. You'll be sharing a space with like-minded people that'll be full of great stories and probably excellent travel recommendations too.
At hostels, there's so much to get involved in, from bar crawls to walking tours, and just because you're in a couple, doesn't mean you should miss out – experience all you can!
Meet new people
If you're travelling as a couple, you're going to be spending A LOT of time together, and it's going to be pretty intense. Couple-friendly hostels will allow you to meet new people from all over the world and spend time with someone else that isn't your other half.
Hostels are fantastically sociable, you'll meet like-minded people from all over the world and be able to learn and experience much more this way.
Meeting new people in similar situations certainly helped us when we travelled, we were able to share experiences and make lifelong friends.
More amenities
Hostels can also offer many more amenities than hotels, and apartments. This could include things like guest kitchens, laundry facilities, Wi-Fi, bars and restaurants and much more.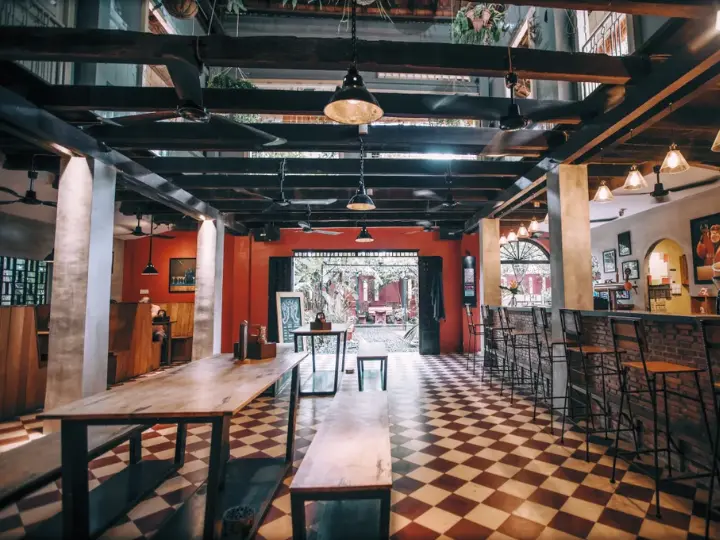 Can couples share a bed in a hostel?
We've explored private rooms, but what about staying in dorm rooms as a couple? Can couples share a bed in a hostel?
Yes, couples can share a bed in a hostel. However, it is important to keep in mind that this may not be the most comfortable option and it'll probably frustrate some of your new roommates!
Are hostels safe for couples?
Often, hostels get a bad reputation for safety. Some people may think that staying in a hostel is unsafe for couples because of the potential for theft or violence, but it's important to note that there is no statistically significant difference between the crime rates of hotels and hostels.
This also depends on the room you're staying in. Staying in a private double, your belongings will be much safer than in a dorm room.
Hostels for couples are the perfect accommodation choice
Hostels are a great option for many reasons when travelling as a couple. We travelled for 6 months and always enjoyed our time in hostels, we met new people, experienced loads saved money, and never stayed in a dorm room.

Want to know more about how to travel as a couple? Check out the rest of our blog.