Tulum is an ideal destination to visit as a couple, particularly those looking to unwind – a relaxed hippie beach town that is full of white sand, turquoise waters, açaí bowls, sustainable clothing brands, hidden cenotes, ancient ruins, and delicious tacos.
Here are some of the best things to do in Tulum as a couple.
1. Relax on the beaches
Tulum is famous for its warm white sand and clear blue waters so it is almost sacrilege not to explore the beaches when visiting.
Here are the best beaches for couples:
Playa Ruínas: A small, sandy beach with the backdrop of Mayan ruins and seaside cliffs, and only reachable by a staircase that descends from the temples above.
Playa las Palmas: A quiet beach that emerges from a tropical forest and its sandy shores offer the ideal place for a leisurely dip or afternoon snooze.
Playa Pescadores: Mornings here offer the sight of fishermen arriving in their boats filled with fish that will be on menus later that day.
El Último Maya Beach: A 'secret' beach in Sian Ka'an biosphere reserve where you're unlikely to see many other tourists, but you'll have to pay $100 pesos ($5.20 USD / £4.50) to enter though.
2. Go snorkelling with turtles
Speaking of crystal clear waters, another great thing to do as a couple when visiting Tulum is to snorkel with turtles – and the best place to do this is but a short drive up the coast.
Literally named 'place of the turtle' in the Mayan language, Akumal is a quaint town that attracts tourists to its beachfront to enjoy its turquoise blue water and the turtles, and sting rays that frequent it.
Book a tour at one of the stands just before you reach the beach and for around $560 pesos ($30 USD /£25), you'll get an hour's snorkelling with a guide, life jacket, locker, and access to the beach.
It's so worth the money – we were in a group with only one other couple and saw around 5 or 6 turtles, a sting ray, and saw the coral reef.
Turtle Bay Café and Bakery is a great option for a post-activity breakfast too, so you can both revel in the wonder of your morning over avocado toast or Huevos Rancheros.
We recommend jumping in a colectivo from Tulum, which will cost you around $40 pesos ($2.10 USD / £1.80) each. Alternatively, you could get a taxi.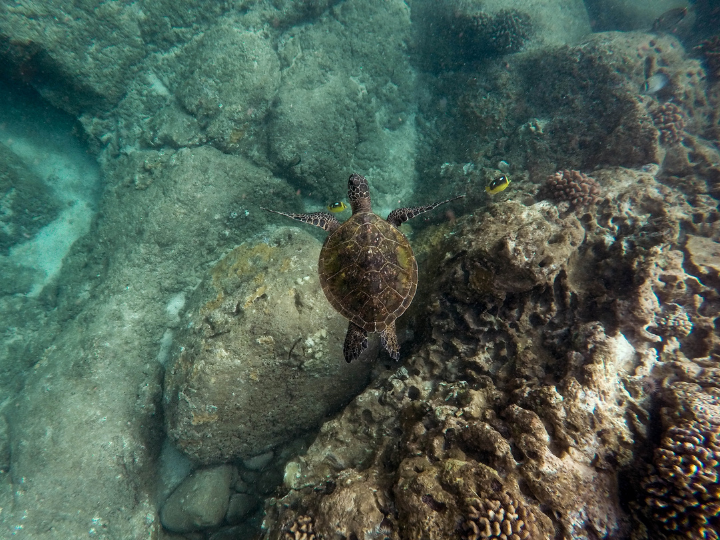 3. Marvel at the Mayan Ruins
Built on a cliff and facing the rising sun, Tulum's ruins are the only Maya settlement located on the beaches of the Caribbean – a sight to behold and a romantic setting to visit as a couple.
The 'ceremonial complex' is surrounded by walls on three sides, with Tulum actually meaning 'wall' in the Mayan language, while the fourth side is the sea, and the area was occupied by the Mayans from around 1200 AD until the 15th century.
The site is open from 8:00 am until 5:00 pm every day, although many tour buses arrive mid-morning so go early if you'd prefer your photographs not to feature hoards of tourists. You can definitely get some great pictures here.
It's very easy to cycle from both Downtown and the Hotel Zone, although you can also get a taxi and there is parking if you've hired a car.
It costs around $90 pesos ($4.50 USD /£4) per person and you can just buy tickets at the desk on arrival.
4. Explore a cenote
Never heard of a cenote? Us neither before we visited Tulum.
A cenote is essentially a natural swimming hole that is formed when limestone collapses, revealing a hidden pool of water that is often home to various fish, plant life and even turtles!
Throughout the Yucatan Peninsula, there are thousands of cenotes and these sheltered havens have become popular places for locals and travellers to cool off. These can be open-air, semi-covered, or completely underground.
Some of the best cenotes to visit near Tulum are:
Gran Cenote: A large open-air cenote with a collection of caves and caverns located just outside Tulum. It costs around $500 pesos ($25 USD / £22.50 ) to enter.
Cenote Sac Actun: Part of the longest underwater cave system in Mexico and the snorkelling here is not to be missed. It costs $450 ($24 USD / £19.50) to enter and includes a life jacket and snorkel.
Cenote Zacil-Ha: A small open-air cenote that is probably the most alike to a 'regular swimming pool' for those who aren't keen on caves. It costs around $200 pesos ($10.50 USD / £9.00) to enter.
5. Visit Sian Ka'an Biosphere Reserve
A UNESCO World Heritage Site, Sian Ka'an Biosphere is a great place to check out when visiting Tulum as a couple as a coastal paradise. Home to a vast biodiversity, particularly bird and marine species, you can explore its tropical forests, mangroves, marshes and barrier reefs.
There are two main entrances to the Sian Ka'an Biosphere reserve, with the most popular following the coastline south of Tulum's beach road, although the road ends at the village of Punta Allen. A second entrance to Sian Ka'an is next to Muyil Ruins and several buses make the 20-minute trip from Tulum to Muyil each day.
You can explore the reserve yourself or a tour from Tulum will cost you around $2,800 pesos($150 USD/ £122) per person as this includes transportation and lunch.
6. Enjoy a lazy brunch
One of our favourite things to do together is to go for a lazy brunch and there are definitely some great places for couples to enjoy a late breakfast in Tulum.
Here are some of our favourites:
Me Latte – La Veleta
Rossina Cafe – Pueblo
DelCielo – Centro
Potheads – Pueblo and Beach
Raw Love Brunch – Beach
7. Get your fill of excellent food
Alongside brunching, one of the best things to do in Tulum as a couple is to enjoy the town's amazing restaurants and get your fill of traditional, and some great International, food.
Taco Bish – La Velata: Glamping equivalent of kerbside tacos. Great value in a cute setting and you can add your Taco toppings yourself, which is fun. ££
El Camillo Jr – Pueblo: Enjoy fried fish, fish tacos and ceviche mixto with a local beer or a margarita and live music in the evenings. £
Jungle Jax – La Velata: Lovely French restaurant with an authentic jungle vibe and super attentive owners. £££.
NÜ Tulum – Hotel Zone: Top-notch cuisine in a romantic ambience and zero waste philosophy. £££.
Mamazul Tulum Mezcaleria – Aldea Zama: Indulge in a Mezcal tasting before enjoying a fusion of Italian and Mexican cuisine. £££.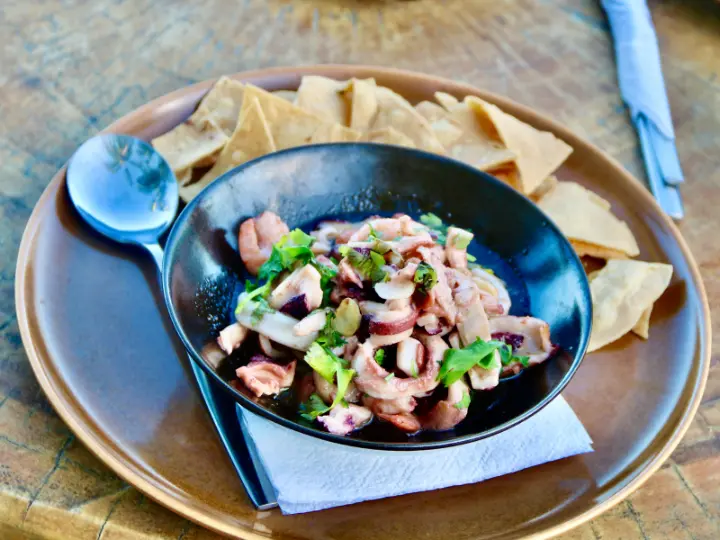 Check out the best couple-friendly hotels, hostels and homestays thanks to The Couples Travel Guidebook.
Check out our latest Tulum post: where to stay in Tulum for couples.