When backpacking as a couple, one of the best ways to meet new people and experience the local culture whilst travelling is by staying in hostels. This type of accommodation is also a useful way to save money when travelling but, with so many hostels to choose from, it is difficult hard to know which ones are worth your time and pennies.
Lima is a backpacker hotspot, particularly for those looking to explore the country's renowned Ince ruins, Machu Picchu, so there are hundreds of hostels to choose from. They're not all good for couples though, so we've rounded up the top 5 hostels in Lima for couples, according to couples.
Pariwana Hostel Lima
Located in the bustling yet safe Miraflores neighbourhood, Pariwana Hostel Lima offers adults-only accommodation with a restaurant, a bar and a terrace as well as a nightclub. This laid-back hostel is next to the Parque Central de Miraflores and is surrounded by shops, coffee shops, restaurants, and fantastic nightlife.
Private rooms offer air-conditioning and en-suite facilities, as well as a complimentary breakfast on a terrace with city views. There's also a TV lounge, along with a shared kitchen and ping-pong tables. You can enjoy free walking tours, salsa lessons, karaoke, trivia nights, and much more.
Couples particularly like the location of Pariwana Hostel Lima — they rated it 9.6 out of 10 for a two-person trip. The hostel has great reviews for how welcoming the staff are, the location and the Wi-Fi.
Black Llama Hostel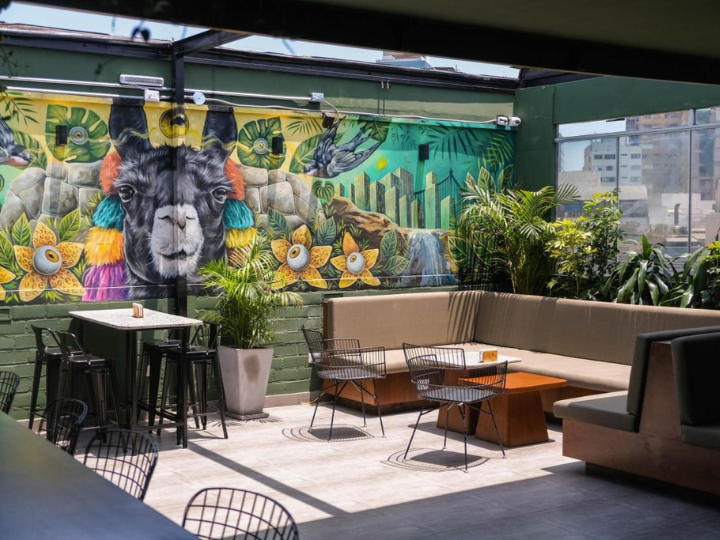 Also located in Miraflores, Black Llama is a buzzing hostel with a nice vibe where it's easy to meet new people and have fun. The decor is quirky, with art on the walls and a terrace. It's just over the road from Miraflores Central Park, which is nice to sit in with a coffee and is close to lots of vibrant bars, restaurants and cafes.
Private rooms offer an en-suite, balcony and a city view. The hostel has free Wi-Fi, hosts evening entertainment and breakfast is available daily.
Black Llama has great reviews from couples for its staff, location and value for money. Lots of people also comment on how warm and powerful the showers are – which we know is very important!
Kokopelli Hostel
This lively hostel is a 6-minute walk from Los Pavos Beach, perfect for any couples looking to do some surfing on Lima's coast. Housed in a converted manor dating from the early 20th century, Kokopelli Hostel is in the city's Barranco neighbourhood, our personal favourite.
The hostel offers a bar, a shared lounge, and free WiFi throughout. You can enjoy table tennis, other games and coffee from the hostel's own cafe.
Private rooms are all en-suite and breakfast is included. Kokopelli Hostel has great reviews from couples that mentioned the beauty of the colonial building and how nice and clean the rooms are. A great option for any couples looking for somewhere with the WOW factor.
Selina Miraflores Hostel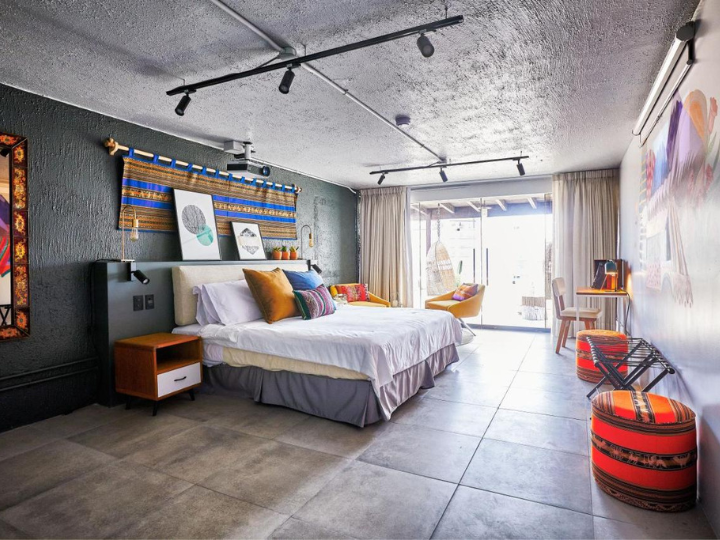 For any couples looking to do a bit of work whilst in Lima, Selina Miraflores Hostel is a great option. Why? Because it has its own coworking space for guests.
The hostel, which is located in a 1970's building, offers a restaurant, a cocktail bar, cowork, and a cinema room with an Apple TV plus free WiFi throughout. The decor is quirky but cool, which adds to its laid-back vibe.
All private rooms are en-suite and the hostel also offers apartments equipped with kitchens and private living space.
Reviews from couples comment on the cool hipster vibe of Selina Miraflores Hostel as well as how easy it is to meet new people.
1900 Hostel
Located in Lima's historic centre, 1900 Hostel is a short walking distance from Lima's main tourist attractions and is just in front of the Lima Museum of Art. The hostel is housed in an early 20th Century building with marble floors, which adds to the charm of staying in the city's historic centre.
Here you can enjoy the games room, complete with a billiards table, salsa lessons and borrowing books from the hostel's library. Private rooms are en-suite and offer wooden work desks, should you need them.
Reviews from couples are great, with lots commenting on the location, breakfast and friendliness of star. Many reviews also mention lots of cats to stroke, which we're sure will be a plus for many!
So if you're staying in a hostel when you're travelling to Lima, there's plenty of accommodation to choose from! None of these for you? Check out more hostels in Lima.
Check out the rest of our blog for more couple's travel tips and recommendations.